LAA Committee Teams
Team and committees that work to make LAA a vibrant association.

---
Education Committee
The education committee helps determine the association's educational programs and events. Programs such as Learn@Lunch, IRO-EDU, HVAC EPA, REDBOOK, Fair Housing, and various webinars help members develop their careers and personal growth. This team works diligently to secure the best educational opportunities for our valued members and partners.
---

Community Service Committee
The community service committee is responsible for seeking out programs and projects that will benefit the Lubbock community. Some of our most successful community projects include the Dream Big Chili Cook-off and various partnership projects with the South Plains Food Bank, CASA, and Shadow Warriors. We are always looking for other charities that serve and help our community. 
---

Products and Services Committee
The Products and Services committee is essential to making our association a vital partner in member business growth. This team organizes events that bring members together to build business relationships, share information, create trade opportunities, and build economic growth potential within our association. 
---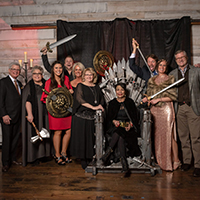 Events Planning Committee
Events are an essential aspect of association life. Our members are like family, and we love celebrating our friendships with our association partners. To help keep and promote these partnerships, our events planning committee develops networking opportunities that bring members together. We enjoy food, drinks, and activities that build lasting relationships. These events this committee creates include golf tournaments, installation gala, member luncheons, the State of the City Mayor's address, and more.
---
As a member of the Landscaping Association of America, you have access to a number of benefits that can help your business grow. One of the best ways to take advantage of these benefits is to join one or more of our committees. By joining a committee, you'll have the opportunity to network with other members, learn about new services and products, and help shape the future of our association. So if you're looking for a way to take your business to the next level, we hope you'll consider joining a committee today.

You will begin receiving notification emails on meetings and events. Sometimes they show up in your Spam/Junk. If you have any questions, please let us know.
Join an LAA committee today!