39th Annual State of the City Address
A Virtual Presentation by Mayor Dan Pope
State of the City Presenting Sponsor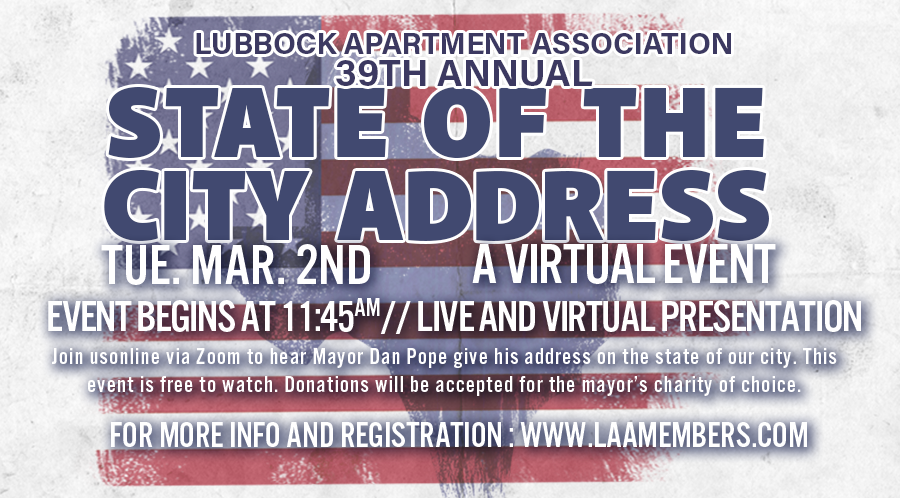 This year's event will be presented in a virtual format to comply with health and safety guidelines. 
You will need to register to receive a link to join the event.  We encourage you to gather your family, friends, staff, or colleagues to have a watch party. Maybe even order from local establishments to deliver and make it a fun lunchtime event. 
The event will open at 11:45 to give everyone time to log in and view the presentation. 
The State of the City is a fundraiser hosted by the Lubbock Apartment Association that benefits a charity of the Mayor's choice.  Over the past 38 years, from this event, we have donated over $250,000 to different charities throughout the city.  The Mayor will be making a special announcement of the charity closer to the event.  You have an opportunity to donate to the charity through your registration below.
---
Matching Charity Donation Sponsors
Lubbock Association of Realtors
National Anthem Sponsor

Action Printing


George McMahan Development


Happy State Bank


South Plains Electric Cooperative


Lubbock Economic Development Alliance


Minnix Property Management


Lubbock National Bank


Oberkampf Supply Company


Alderson Auto Group


Lubbock Chamber of Commerce

Freese and Nichols


First Bank and Trust

Rebus Capital

JTI Properties Inc.

The GO Getters Multi-Family
KW- Commercial


Kimley Horn

American Bank of Commerce

United Supermarket

Hugo Reed 

Wilkerson Properties

First United Bank
If you would like to donate without registering for the event, you can donate by adding this item to your cart and set the amount at checkout.